High Temperature Stainless Steel Water Storage Tank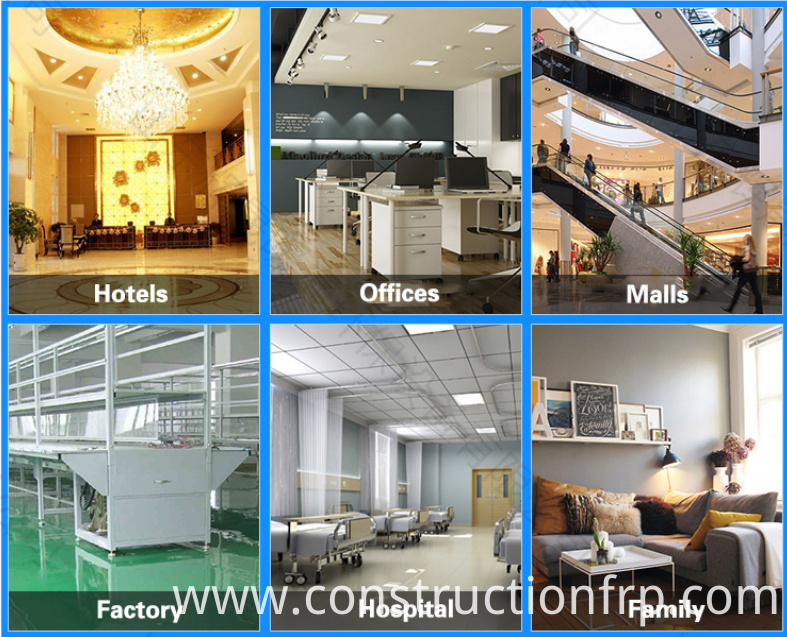 SUS304 stainless steel precision molded :
Common types of stainless steel fire Water Tank square modular water tanks, round tanks vertical, horizontal circular tank. Using SUS304, SUS316L, SUS444 stainless steel plate, etc., stamping. General stamping into three dimensions, namely, 1X1 meters, 1X0.5 meters and 0.5X0.5 meters are three peripheral with TIG connected with high strength, light weight, low cost, environmental health and other characteristics. Manufacturing standards for the National Building Standard Design Atlas 02s101.
Stainless steel tanks suitable for water quality requirements of the higher places large hotels and restaurants, offices, apartments, buildings and food processing research and teaching, health care, electronics and other industries. (Note: The high concentration of chlorine in water with caution)

Instructions for use :
1, Stainless Steel Water Tank as a storage life of the secondary device, can only be installed domestic water (fire water), can not be installed as hydrochloric acid, sulfuric acid or acidic, alkaline content of the larger liquid.
2, the water tank during use, do not other heavy equipment on top of the tank, do not use a hard object random beating or drawing tank layout and fittings, there are problems to notice factory technical service personnel, maintenance of welding personnel, the requirement is specialized in argon professional arc welding work, maintenance should let the water out.
3, regular monthly maintenance personnel observe the tank, outside the main usage parts and accessories, there are problems in a timely manner to reflect the manufacturers.
4, into the water tank Do not open the manhole cover, prevent water pollution by the secondary, the annual regular tank cleaning and disinfection 1-2 times.

Features :
1, stainless steel tanks are generally made of SUS304 stainless steel sheet material, stable physical and chemical properties of water pollution, ensure clean water quality;
2, stainless steel water tanks stamping molding, high strength, light weight, looks clean, beautiful and elegant;
3, water tank panels generally use high nickel above 8.0 3042B board, smooth surface appearance, easy to clean;
4, due to the dense surface oxide layer, excellent corrosion resistance, good sealing performance;
5, a large impact resistance, strong seismic performance;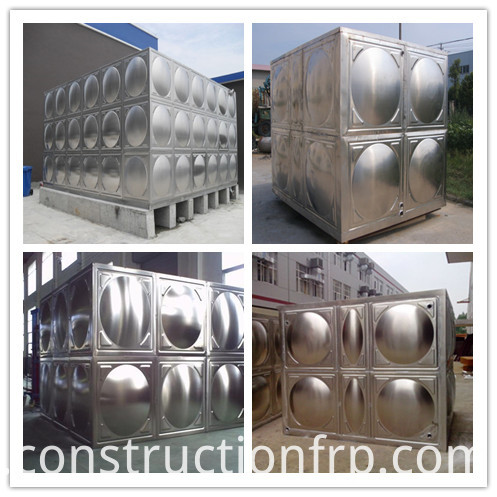 Installation :
Stainless steel water tank can be concrete strip foundation beam, I-beam, or "C" shaped channel. Stainless steel water tank on the top corner with a breathable air filtration devices, device specifications and quantity determined by the manufacturer according to the size of imports. Stainless steel water tanks use the internal reinforcement. Each nozzle flanges are standard flange 1.0MPa. Designers in the layout of the tank position, reference should GB17051-1997 secondary water supply facilities, sanitation norms. When the water tank specifications and technical parameters, or orientation is not suitable for practical use, stainless steel water tank designers determined according to actual needs presented.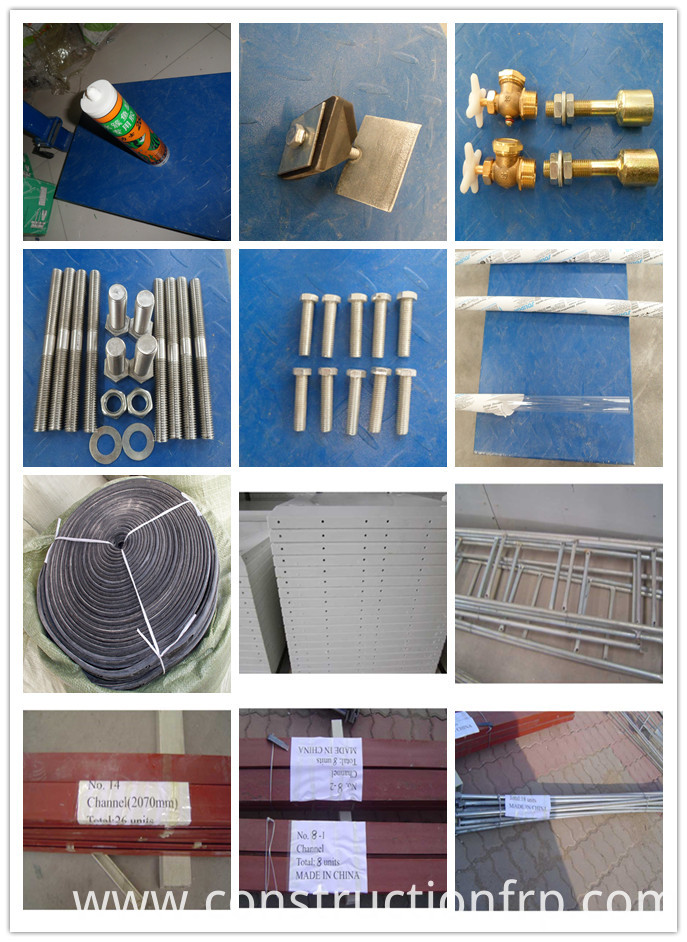 1, welding stainless steel water tank machines needed: Computer pulse seam welding machine, semi-automatic roll bar machine, spot welding, plasma cutting machines, electric scissors;
2, welded stainless steel tank bracket required machine, welding machine, cutting machine, multi-angle roll bending machine;
A, tank foundation requirements
Concrete foundation geometry should GB02S101 relevant regulations formulated. Concrete foundation plane height difference <5mm.
B, stainless steel water tank installation, construction and acceptance
Professional TIG welder spot. Construction site with standard power supply. Tanks surrounded ≥500mm maintenance space. Visual inspection no rust, no pollution: Filled with water 2-3h, Case no significant deformation, weld no leakage is qualified.
C, water tank use, repair and maintenance
When the pipe to the pipe inlet and outlet do not apply excessive load. Do not place the weight of valves and large-diameter pipe is directly applied to the tank outlet, set the tube support if necessary: For welded pipe expansion, contraction, vibration must be installed retractable flexible joints.
Pressing a stainless steel plate welded tank made of stainless steel plate stamping out the ribs and welded stainless steel bars welded together, simple structure, good strength, can produce larger capacity tank. Because box made of stainless steel plate welded, completely blocking the sunlight exposure, it will not breed algae. Make the water remains clean.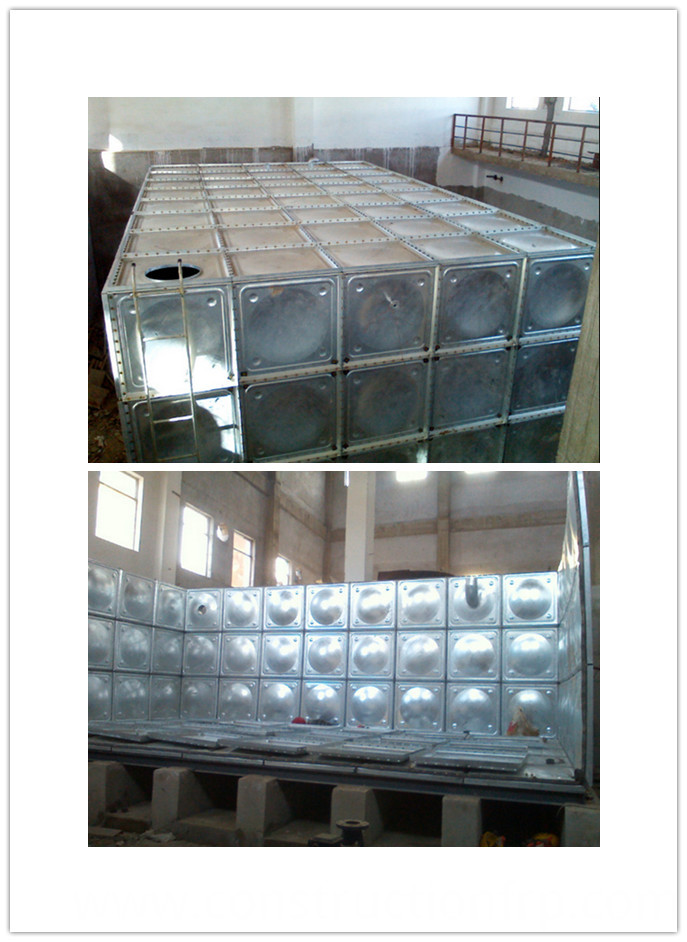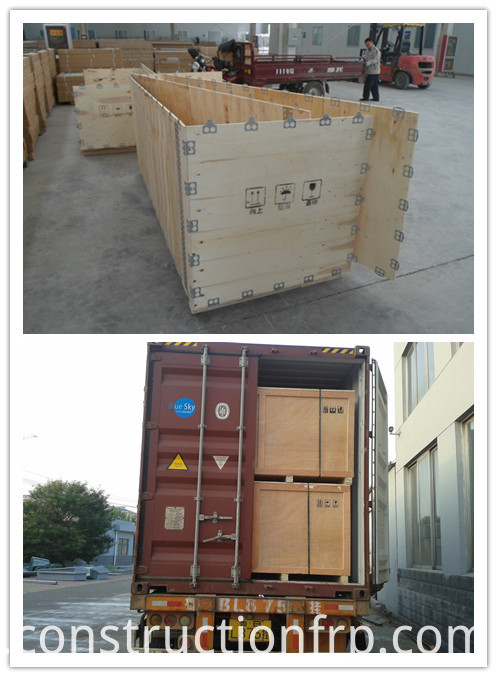 Q1 : Are you Manufacturer or Trading company ?
A1 : We are not only manufacturer but also Trading Company . We could help our old customer to find right suppliers .
Q2 :Can I vist your Company ?
A2: Yes ,of course ! We are warmly welcome ! If you come ,please free to contact with us . We will pick you up !
Q3 :Do you accept sample order ?
A3 : Yes , we can accept .And we also can send you sample by free !
Q4: Can you make a confidentiality for our project ?
A4 : Yes ,of course . We can sing a confidentiality agreement for you .
Looking for ideal Fire Fighting SS Water Storage Tank Manufacturer & supplier ? We have a wide selection at great prices to help you get creative. All the Pressed SUS 304 316 Water Tank are quality guaranteed. We are China Origin Factory of Welding Stainless Steel Storage Tank. If you have any question, please feel free to contact us.
Product Categories : Water Tank > Stainless Steel Water Tank